---
Wow! It's been a long time...we're fine. Life (and death) has smacked us around, but we're still here. Havn't done any site stuff for a while, time to get back in practice...I miss it. Will post again soon! Great to be back in business...Time to catch up.
Big thanks to Kenny for letting me play his awsome new bass! Click on the image to enlarge.


Welcome Verizon DSL to Montross! It's about time! Broadband is now available in our little town.
Don't know how much we'll be around until the new year so everyone have a great one and stay safe!
We hope everyone has a fun and safe Thanksgiving Holiday!
Message Board colors tied in. Guestbook and Quicknotes functioning.
Sorry guys and gals, we just couldn't handle the powder blue colors anymore...I think they were giving everyone a headache. Once again many inprovements have been made to this design. Some pages aren't done so they will default to the blue ones until complete. We hope you like it as much as we do.
George W. Bush has beaten John Kerry in the 2004 Presidential Election. The Republicans now control all 3 branches of the Government. We wish them luck, they're going to need it.
Yesterday, the Cassini Saturn Probe passed within 745 miles of Titan. If you want to see the closest images ever taken of Saturn's moon, go to http://saturn.jpl.nasa.gov/home

In case you missed the Presidential Debates on TV, we managed to get the candidates to stop by for quick debate right here on our site. We were so honored, we've decided to give them both some more free air time.

DON'T FORGET TO CHOOSE AND LOSE NOV 2!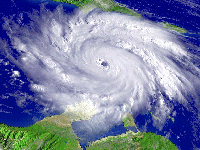 On the heals of Frances, comes Ivan the Terrible. This hurricane is the strongest ever recorded in the lower latitudes. It strengthened from a Tropical Storm to a Category 4 Hurricane within a 24hr period. It has done major damage, as a Category 5, to several islands and is expected to make a direct hit on Jamaica later tonight as a Category 4. Then, once again, it has it's sites set on Florida and the Gulf of Mexico. Hold on tight, here comes Ivan. Click on the photo for a close up. Note: The island at the top right of Ivan in this photo is Puerto Rico again, this shows you the difference in latitude.
Note˛: Image ivan090904.jpg can be used as a 1024x768 wallpaper.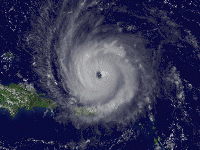 Hurricane Frances is steaming toward Florida at 17+ miles per hour. Frances is going to be another bad one. It is a strong category 4 now, but is expected to strengthen before landfall sometime on the Labor Day weekend. Click on the photo for a close up picture of this monster. Note: The island just below Frances in this photo is Puerto Rico.
Note˛: Image frances083104.jpg can be used as a 1024x768 wallpaper.
Lots of new links have been added. Please report dead links using the "contact us" link above. Thanks. *Yes, hello. I would like to report that the contact us link above is broken* HEHE! Just kidding!
Well they've done it again. The wizards at NASA/JPL in California have sucessfully put the Cassini Space Probe in orbit around Saturn. Cassini will launch the Huygens Probe to the surface of Titan. The scientist at JPL hope to learn many things about the origins of our solar system.They also hope to gather information to help them understand other disk systems they have seen with The Hubble Telescope. Click on the image to enlarge. For more information on the Cassini-Huygens click here.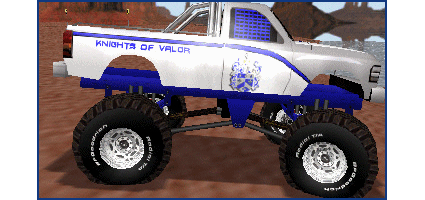 Check out the paint job on this baby! Sir Ping of Death made his vision a reality with this cool monster truck. It's been reported that Sir Ping can still be found flinging mud in Monster Truck Madness 2 Online. Ping and all his madness can also be found at... where else? ping.kovclan.org

More images: side view / back view / suspension view

Congratulations MC Maistro!
You should be really proud of yourself.
We are all very proud of you.
Graduate of Warwick HS Class of 2004...
with Honors, Thespian. Good job bud!
Congratulations to everyone in the Class of 2004!
Happy Birthday Matt! Hope you have a great day, even if it is a Tuesday.

The release date for the Lord of the Rings -
Return of the King DVD and Video has been announced as May 25th 2004.

Thanks Pete, for not making us wait until August. Maybe the Extended Version will come out early too.


Hope you have a great day!
Hope you have a great day!
The forums were always meant to be just for fun and communication among friends and family, that's why they were always here on our personal page. Somehow I got caught up in the excitement of learning new things, graphics, changing servers, etc... and lost sight of all that. When we switched servers I made some mistakes setting up the forums that have now been corrected. Please re-register on your next visit. Sorry, I promise it's the last time, because what you see is it this time. The new forum address is:
http://www.rc2studios.com/deerwolf/forums.html
This newest version of deerwolf includes a php guestbook. Please sign it.


Hats off to Sir Launchalot_kov for his fine work on this KoV sword. He did a very nice job skinning it. We have two of them here for you to check out. Sir Launchalot fan club information can be found in the lobby.

Dave Grohl, (Foo Fighters, Nirvana), unleashes his heavy metal music project featuring a wide array of artists today. Haven't heard it yet, but the concept is "refreshing" to say the least. probot
New links in all categories.
Just for kicks, I thought I would put up the very first version of what was then the RC˛deerwolf page. Try not to laugh too hard. deerwolf v1.0
I know, I know. But this one is much more user friendly, and eaiser for the "webmaster" to maintain. *clears throat* Hope you like it. Links are still in progress and may be for some time. Please report any dead ones you find by using the "contact us" link. Thanks.
Have a great holiday season, and stay safe everyone!
We are testing a "chatterbox" on the forum page. Hopefully you will be able to chat with others that are on the board the same time as you. If it works great! If it doesn't work...well...it's out of here!
Well we were without power for over a week, and it's taken a while to get caught up with the everyday things, but we're ok. All in all we came out good. No property damage or life lost. We were lucky. It was bad.
Hurricane Isabel is due here tonight into tomorrow. We hope to see you on the other side.
The townofmontross.com site went live 11:55pm, July 31, 2003. Just under the wire on the July launch date.
I cleaned out the Favorites list today. Added lots of new links. Music, Information, Computers, TV, and more.
Sorry you'll all have to re-register. Alias' are ok this time. Lets have some fun with it. Enjoy.
I made my first PHP file yesterday. Take note of the line at the very top of the page. If you using Internet Explorer to view the page it says one thing. If your using another browser, it says something else. I know, I know big deal, but hey, I thought it was cool. PHP is another neat web design tool. It opens up a lot of possibilities.
*post edit* - this was an earlier version.
This page is now done. I finally got it the way I want it and that's all she wrote. I'll be adding links to the links pages from time to time, and news to this page when needed, but the overall look of things is complete. On to bigger and better things.
*post edit* - yea right.
This site has been moved to rc2studios.com, update your bookmarks. HA! Now that's funny!
© Copyright 2001 - rc2studios.com